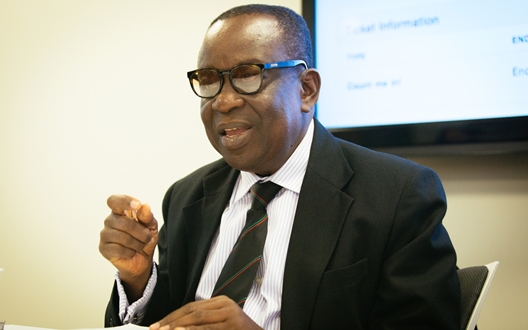 National Security Minister, Kan Dapaah.
A non-governmental organization operating in the Northern Region, the Peace Seekers International, is calling for a complete overhaul of the national security setup if government is indeed committed to stop the widespread political vigilantism gaining notoriety in the country.
The NGO argues that,  security operatives have failed woefully considering the rate at which NPP-affiliated groups are going on rampage without control.
Citi News has reported on about 20 of such vigilante group actions since the New Patriotic Party administration came into office, with the major incident being the assault on the Ashanti Regional Security Coordinator by the Delta Force group, which subsequently led to the 13 suspects being freed by their colleagues in an open court.
As an NGO operating in the Northern Region, The National Coordinator of Peace Seekers International, Alhaji Abubakari Daa-Naa, implored President Nana Akufo Addo to rethink about his security apparatus.
He is convinced that the recent acts of hooliganism by some irate NPP youth leading to the sacking of government appointees and locking of state institutions could destabilize the nation if punitive measures are not adopted to curtail such culture of impunity.
"At the beginning, I was thinking that because NPP had just come into office, that's why the security is not yet stabilized, but I think for now, something is very wrong with the security setup of Nana Addo, and if His Excellency Nana Addo Dankwa Akufo-Addo who I know very well is very active and security conscious, will do some smart changes within the security setup of the country for us ti have peace with regards to these pockets of violence."
"I think it is unfortunate, and it is not only happening in the northern region. This is happening all over the country, and that I want to say is that, I will attribute it to the fact that, Nana Addo has got a very poor security setup."
Alhaji Abubakari Daa-Naa insists that the nation's security operatives have so far failed to bring the perpetrators to book, hence him the need for a complete overhaul of the national security setup.
"Those who are heading the security if Nana Addo Dankwa Akufo-Addo, the President of the Republic of Ghana are to sit up because they are not gathering enough intelligence to put a stop to some of these things which are happening all around."
"We have a lot of intelligent personalities who can assist Nana in managing the security of the State very effectively to stop all these things."
–
By: Abdul Karim Naatogmah/citifmonline.com/Ghana